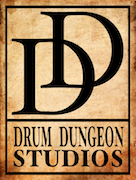 We have the recording studio you need.
Whether you're a solo artist, producer, a full-scale rock band, a choir or even a string or brass section, across our three rooms we can provide you with a world-class experience in studio recording.
"Sound Bunker / Drum Dungeon Studios" are located in Wahlstedt, 60km north from Hamburg, Germany, 40km south from Kiel and just 28km from Lübeck and Travermünde Summer Resort Beaches.
The Studio offers a ground floor area of nearly 300sqm with a spacious 62sqm live room (8m l, 8m w, 3.2m h), a 28sqm room (5m l, 3m w, 3.2m h), a dead booth (2.3m l, 2..6m w, 2.5m h) and a 24sqm control room (6m l, 3.5m w, 2.3m h).
The size and sound proofing of our rooms also allow us to record live band sessions. The big room is perfect for recording ambient sounding drums and other acoustic instruments, a real Piano and for a less live sounding ambience you can choose Room B.
With our enviable selection of microphones and recording equipment and expertise in technology (both analogue and digital), we can give you the ability to accomplish the recording and mix you want.
However, we don't only work with major labels, global icons and household names.
We also cater for small and developing artists, and those with private projects. We can tailor packages to suit your needs.
For our long term guests, we can accommodate you in our ensuite facility that sleeps up to six. With a modern designed kitchen, a shower room and a spacious lounge with DVD/TV, Video Games and of course high speed WiFi, you will feel just like being at home.
For our clients with special requests, we can offer you two luxurious modern equipped Apartments and nearby 4* Hotels.
The DD Studio mainly focused on good sounding Drum recordings with its fine selection of top Mics and pre amps,
but not only.
Mark added_ "The Drum Dungeon was an idea a few years ago and I kept the name particularly for drum recordings, sound creation and productions. Since the Studio now offers more than just drum recordings, the "DD" was added as a "department" besides the other activities.

To be honest, until this beautiful facility had been found, all there was before, felt like crawling out of the dungeons and now we´ve got daylight!!
And the name is so cool that it had to be used!" (Big smile!!)

Welcome to the Dungeons – The choice of class in recording Music!