Mark was born in London, England on August 2nd to an English father and German mother and grew up in a musical environment and was given a pair of sticks when he was six.
He looked into drumming ever since and got his first drum kit at the age of 9.
Greatly influenced by Jazz and Rock drummers of the 60's and 70's, he managed to develop his own style and mainly points out Billy Cobham, Steve Gadd, Pierre Moerlen and much later Buddy Rich and Gene Krupa to be some of his idols. The 70´s Jazz Rock scene greatly influenced him among Rock legends Ian Paice and John Bonham, who were probably the ones responsible to set his life on fire.
In the early 80´s Mark focused closely on Brian Downey, Keith Moon, Neil Peart, Cozy Powell, Nicko McBrain and later Simon Philips and caught the missing parts in drumming.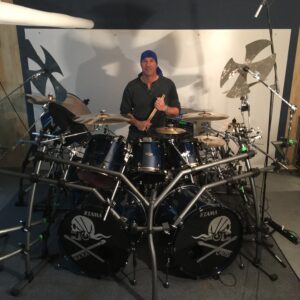 Mark grew up in 3 countries and speaks fluent English, German, Greek and some French. Over the past 33 years he has been working as a professional Musician with known bands and artists worldwide, who gave him great reputation in the international music industry as a musician and as a drummer.
Bands in his roster such as legendary metal/rock bands HELLOWEEN and METALIUM, Deep Purple's frontman IAN GILLAN and JOE LYNN TURNER, KINGDOM COME and HARDLINE, NWOBHM SARACEN and TANK, FIREWIND and OUTLOUD, Whitesnake's, Thin Lizzy´s and now Dead Daisies Bass player MARCO MENDOZA, the mighty SCORPIONS ……. shall I continue?
He has been also working with legendary Producers Chris Tsangaredes (RIP my friend) (Gary Moore, Thin Lizzy, Judas Priest, Yngwie Malmsteen ….), Charly Bauerfeind (Helloween, Blind Guardian, Molly Hatchet, Saxon ….), Frederik Nordstrom (In Flames, Arch Enemy, Firewind….), Kip Winger (Winger, Alice Cooper … ) and Tommy Hansen (Helloween, Pretty Maids …) have all left a great mark in his career.
Mark added: "It´s been an exciting ride working with so many, but also a burden to carry, I would have rather been only in one or two bands and enjoy a successful career.
I guess it just happened that way, except for a few hick ups in some bands.
But I am truly grateful to have had the privilege to tour, record and meet so many talented Musicians in the world. This is not the end….the Best is yet to come!"
In his early years Mark worked as a Bar Tender, DJ, Studio engineer and Security Guard and later became owner of three Businesses, a Recording Studio and Rock Bar back in the 90's and in 2009 he opened the Artist/Event agency Crossroads Productions in Greece, in 2011 in the UK and today as a small division in booking under the same roof of the Sound Bunker / Drum Dungeon Recording Studios in Wahlstedt, Germany.
Mark added: "Playing drums has and will always be my baby! I love being on the road and love sitting behind my kit doing what I do. Sitting in the office doing other things to keep the money coming has become a pain in my ass, but it´s nothing unusual nowadays the way the Music industry has turned!! It would be a great idea and benefit for all, if the industry announced the return of only Vinyl as it was back in the day!"
From his early days playing in small town bands he made it to top acts in the industry, went through the usual ups and downs in life and landed more than 55 Studio albums until today, multiple guest appearances, live recordings and 2 DVD's. Mark managed to stay busy and still records and tours.
After five years with Firewind, non stop touring and 3 Studio albums, he focused in 2010 on Tainted Nation, which was a remarkable unity featuring his good friend Pete Newdeck, Ian Nash, Pontus Egberg and Joel Peters. They recorded two albums.
It was the time of changes, again, Mark´s personal life wasn't doing great. When he divorced from his wife he decided to leave the UK and move to Germany in 2014, when he fit in for The Scorpions in Bahrain on the Grand Prix.
Today Mark has two bands, God´s Army and Tower of Babel, both with new releases in the pocket!
They will start touring in 2018 and look for a bright and busy 2019!
'Bon Scott said: It's a long way to the top, if you wanna rock'n roll…… bloody right he was! There were times when I felt like kissing show biz goodbye and do something else.
I truly thank those who kept me away from these thoughts and believed in me! It's 2018 and I am proud to say that I am still having a lot of fun in making music and playing the drums, although the music industry is at stake and hardly pays the bills, I started a new venture and opened a Recording Studio! I always find a way to keep myself in swinging moods!
Peace my friends, stay off drugs, be rock, have fun and get laid as much as you can, enjoy life and you will be the one who'll make the next generation swing!'
Cheers, the PFC!!