Born in London on August 2nd to an English father and German mother, Mark grew up in a musical environment. His parents loved jazz and classical music and often hit the London nightclubs back in the 60´s.
A family friend who was a drummer handed Mark a pair of sticks when he was six and that was his life changer. At nine he owned his first drum kit.
Greatly influenced by the music of the 70´s and picking up records from family friends, he found his way to loving drums and music more than anything else in life.
Kitchen pots and detergent boxes did the trick and helped finalising the first steps to making as much noise as possible and exploring new sounds.
Listening to all the great drummers of the time he quickly found his way developing his own style and mainly points out Billy Cobham, Steve Gadd, Pierre Moerlen and Gene Krupa to be some of his mentors.
The 70´s Prog and Jazz Rock scene greatly influenced him, and rock drummers Ian Paice and John Bonham had left a great impact in his playing,
Mark always mentioned that 1972´s Deep Purples "Made in Japan" was key and the trigger to it all. Not to mention that all Zeppelin albums where just magic.
In the late 70´s Mark was captivated by Rush and Neil Peart changed it all, there had been no other, his playing was just magical!
Of course other drummers like Brian Downey, Keith Moon, Cozy Powell, Nicko McBrain, Alex Van Halen and the fascinating Simon Philips also greatly influenced Mark´s playing. Jamming along to their music was key and Mark closed the second circle in drumming.
Mark grew up in 3 countries and speaks fluent English, German, Greek and some French. Over the past 37 years he has been working as a professional musician with known bands and artists worldwide, who gave him a great reputation in the international music industry as a musician, songwriter and drummer.
Bands and artists in his roster such as German power metal legends HELLOWEEN and METALIUM, Deep Purple's frontman IAN GILLAN and JOE LYNN TURNER, KINGDOM COME and HARDLINE, NWOBHM pioneers SARACEN and TANK, Greek rockers FIREWIND and OUTLOUD, Bass player MARCO MENDOZA (Whitesnake's, Thin Lizzy´s, Ted Nugent, Dead Daisies), GOD´S ARMY, the mighty SCORPIONS, UK´s new rockers TAINTED NATION ……. shall we go on?
Mark has recorded and played drums on over 55 long players and samplers, produced by legendary Producers such as Chris Tsangaredes (Gary Moore, Thin Lizzy, Judas Priest, Yngwie Malmsteen ….) rip, Charly Bauerfeind (Helloween, Blind Guardian, Halford, Molly Hatchet, Saxon ….), Frederik Nordström (In Flames, Arch Enemy, Firewind….), Kip Winger (Winger, Alice Cooper … ), Tommy Hansen (Helloween, Pretty Maids), Kostas Kalimeris (Black Rock Studios) a.o.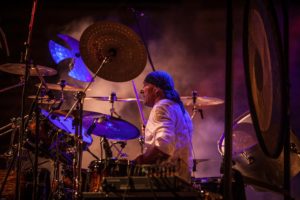 Mark added: "It´s been an exciting ride working with so many different, devoted and great musicians. I am very grateful and can consider myself lucky to have lived these times and been able to tour the world. I gained such a wonderful life experience, the greatest gift of all.
It´s been a bumpy road from time to time, but an honour to have worked with so many talented Musicians around the world.
All I can say is….. never give up and stay true to your dreams and goals!
Playing drums has and will always be my baby! I love being on the road and love sitting behind my kit doing what I do. Doing also other things to keep the money coming in, has unfortunately become a certain routine, but it´s nothing unusual nowadays the way the Music industry has turned and even more after the pandemic!!
Once a musician…… always a musician, that´s the way it goes with bloody hard work, sweat, tears, chicks, booze and fears 🙂 Life is full of surprises and when you think your career is over, another door opens!"
After five years with Firewind, non stop touring, 3 Studio albums, a live DVD and double live CD, Mark left the band in 2010 and focused on TAINTED NATION, which was a remarkable British rock band featuring Pete Newdeck (Midnite City) , Ian Nash (Grim Reaper, Grimmet), Pontus Egberg (Poodles, Treat, King Diamond) and Joel Peters (Bootyard Bandits, Phil Campbell & The Bastard Sons) and released "F.E.A.R. (Fight enemies and rulers)" in 2014 and "On the Outside" in 2016.
On April 4th, 2014 Mark was hired by the "SCORPIONS" for a show in Bahrain at the Formula 1 Grand Prix.
At the same time Mark moved from London to Hamburg and later joined Hamburg´s legendary Rockin´Restaurants "ZWICK" as manager of "Zwick Altona" and also focused on the Dum Dungeon Studio. Zwick unfortunately closed down in Altona in 2017.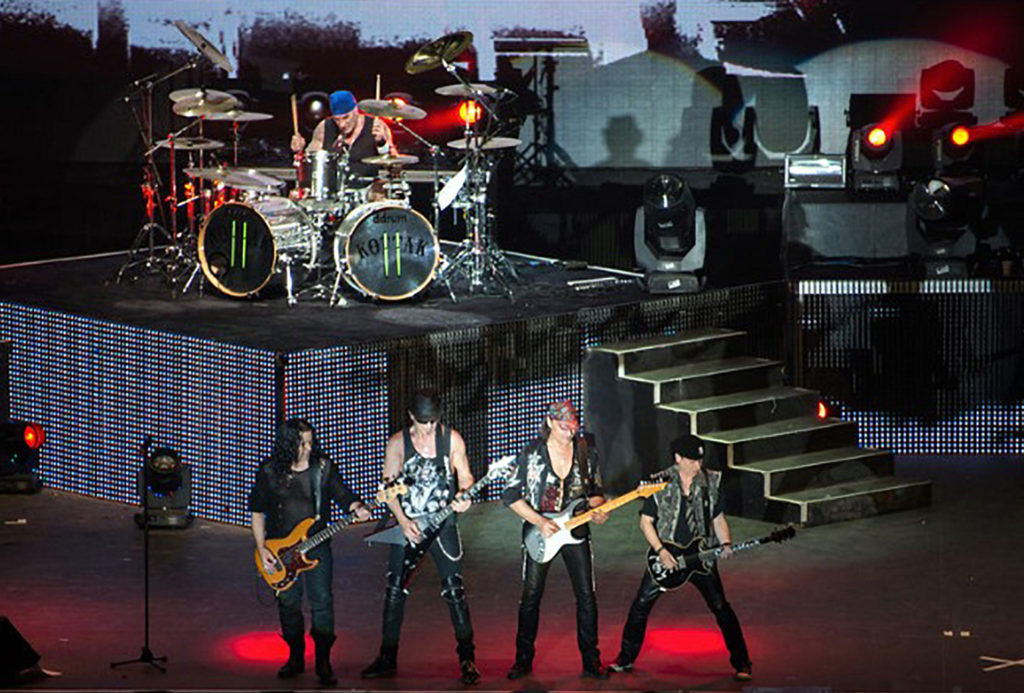 Besides working with GOD´S ARMY" and a third album in the pocket (Warriors of the wasteland 2022) and JOE STUMP´S TOWER OF BABEL, Mark also took the position as touring drummer with the VIVALDI METAL PROJECT in 2018, who had released their limited edition DVD "The four seasons live in concert" on November 29, 2019 and released their second studio album "Epiclassica", another massive all star production also featuring Mark on the song "The Absolution".
In 2019 Mark´s "Best of collaborations …. live project was announced and froze with the pandemic!
Mark used this time to write new music and sees a possible studio album in the nearest future and possible live activities in 2024 called "Ocean´s Eye"!
With Joe Stump´s Tower of Babel he is currently recording the drums for the new album and sees a release towards the end of 2023.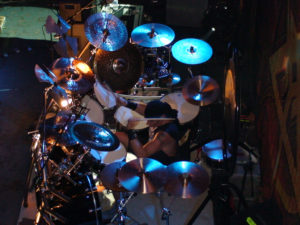 'Bon Scott said: It's a long way to the top, if you wanna rock'n roll…… bloody right he was! There were times when I felt like kissing show biz goodbye.
I truly thank those who kept me away from these terrible thoughts and believed in me.
Peace my friends, be rock, keep your hands off drugs, but on da ladies, have fun and get laid as much as you can! Stay away from dating sites, because …… nothing is what it seems and they bring you nothing but trouble :), enjoy the real thing in life and you will be the one who'll make the next generation swing!"
Cheers, the PFC!!